Pamela N. Maggied's law practice has been devoted to the bankruptcy and insolvency areas since 1980. Pamela believes that everyone who has financial problems should seek out professional advice from an attorney before making decisions on how to proceed.
Chapter 7 Bankruptcy or Chapter 13 Bankruptcy may not be the best solution in every situation. She offers a free initial consultation so you can discuss the specifics of your situation. Then she will give you the advice and guidance you need to make a decision, and support you throughout the process.
Born and raised in Gallipolis, Ohio, Pamela N. Maggied graduated summa cum laude in 1975 from Ohio University and received her JD in 1979 from The Ohio State University College of Law. Ms. Maggied has been certified in Consumer Bankruptcy Law since 1993, and has been a member of the National Association of Consumer Bankruptcy Attorney (NACBA) since 1992.
Pamela is a Columbus Bar Foundation Fellow, and a member of the Columbus Bar Association (CBA). She has been active in the CBA Bankruptcy Committee since 1981, and was a member of the committee that drafted the pre-Case Management/Electronic Case Files (CMECF) rules of practice for the bankruptcy courts in Columbus, Cincinnati and Dayton. She is a member of American Bankruptcy Institute (ABI). She has been recognized as a Super Lawyer® for 17 years in a row, 2007 – 2023.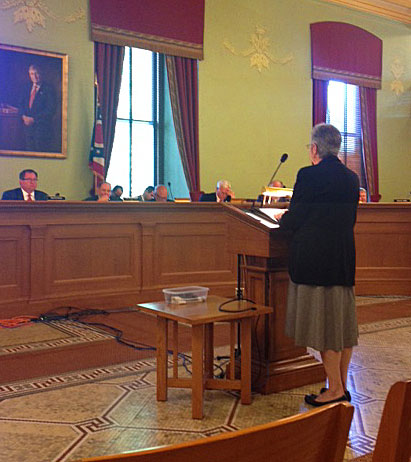 Pamela testifying before the Ohio Senate Committee on Insurance and Financial Institutions, regarding the fees that can be charged in Ohio by debt settlement companies. You can read more about it here.